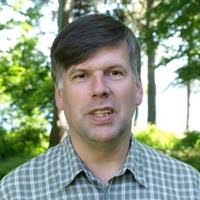 Pieter Kuiper
Institutionen för Fysik och Elektroteknik
Linnæus University
Vejdes plats 6
(building D, room D0060B)
S-351 95 Växjö
Sweden
pieter.kuiper@lnu.se
+46 470 708108


blog
Pieter Kuiper
Lecturer in solid state physics at LNU (since 2000)
Before that:
PhD with G.A. Sawatzky (Groningen 1986-89)
Postdoc at NSLS (Brookhaven 1990-1993)
Research assistent in soft x-ray spectroscopy (Uppsala 1993-97)
Lecturer (Halmstad, 1997-98)
Oavlönad docent i fysik (Uppsala, 1999- )
Researcher with Gerrit van der Laan (Daresbury 2000)
; full text versions of articles.

Research areas: solid state physics, magnetic oxides and superconductors, x-ray spectroscopy especially x-ray raman scattering; scanning tunneling microscopy
Course materials over the years
Other stuff on this site
Vädret i Växjö
Fysikhistoria: Janne Rydberg, Magnetens historia, Rontgenanastromi, Cykla, norrsken.